"Awakening Compassion at Work is a must-read for any leader aspiring to catalyze high engagement, productivity and joy in their workplace. What a powerful book!"
-- Pat Christen, Managing Director, The Omidyar Group
The quiet power that elevates
Suffering in the workplace can rob us of humanity, dignity, and motivation. Often silent and left unaddressed, suffering is a costly drain on organization productivity and potential. Marshaling evidence from two decades of research with organizations in a variety of industries and sectors, scholars and consultants Monica Worline and Jane Dutton show us how small actions can have big effects. Offering a view of compassion that is grounded in the best of social science research and the new science of compassion, this book teaches four ways that anyone, regardless of position or role, can bring more compassion to their work lives.
Going beyond each individual's role in awakening compassion at work, Monica and Jane also reveal how managers, leaders, and change agents can diagnose the social architecture for compassion in their organizations. This work belongs on every organization's strategic agenda, because creating conditions that draw out our capacity for compassion at work confers measurable competitive advantages in areas like innovation, collaboration, service quality, talent attraction and retention, and adaptability. Ultimately, as Monica and Jane write, "Compassion is an irreplaceable dimension of excellence for any organization that wants to make the most of its human capabilities."
"Awakening Compassion at Work is a remarkably thorough and compelling read that will remind you how much more potential exists if we can bring more care and compassion into our organizations."
-- Tom Rath, Author of New York Times bestseller Eat Move Sleep: How Small Choices Lead to Big Changes and Strengths Based Leadership
Join Us

WE ARE BRINGING TOGETHER A COMMUNITY OF COMPASSION ARCHITECTS WHO ARE DEDICATED TO AWAKENING COMPASSION IN THEIR ORGANIZATIONS
When you join our community of compassion architects, we share strategies and evidence for how you can make the case for compassion and unleash the force of compassion in your workplace.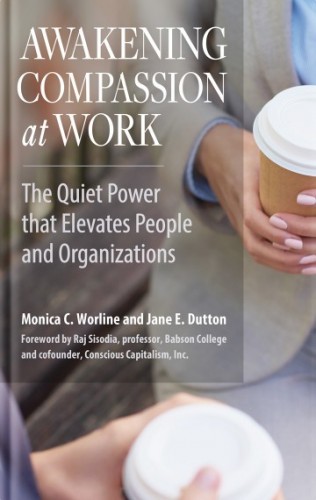 "The definitive guide to research and practice on unleashing compassion at work. The world's leading experts reveal how we can build teams and organizations where people stop checking their values at the office door and start caring about each other."
-- Adam Grant, New York Times bestselling author of Give and Take and Originals
Buy the book